Conveniently located in Central New Jersey – Serving Bridgewater, Branchburg and surrounding communities.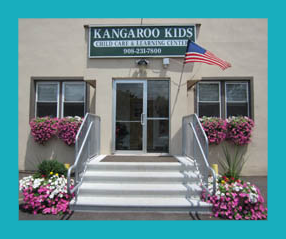 Historic North Branch is the home of Kangaroo Kids Child Care and Learning Center™.
We are dedicated to combining our nationally recognized curriculum with a state-of-the-art child care and learning center in a charming environment that emphasizes the old fashion family values that we feel are so necessary in today's society.
Kangaroo Kids is State Licensed and one of only 7% of the schools nationwide to be accredited by The National Association for the Education of Young Children (NAEYC)! We are renowned members of Coalition of Infant and Toddlers (CITE), New Jersey Child Care Association (NJCCA), and Early Learning Leaders (ELL)… the industry's leading associations.
We can better meet your needs because we are not a national chain, so we can easily adjust to meet the needs of your family and we are immersed in the local community. We build lasting partnerships with children and families.
We were the only school in Somerset County to receive the Christy Todd Whitman Bright Beginnings Grant and we also won the Somerset County Economic Vitality Award. Kangaroo Kids was selected to participate in a statewide Early Childhood Education Science Workshop for teachers. We were awarded a grant through the science workshop to expand our science program.

"If you ever want to see what the most amazing group of teachers looks like, just step foot in the front door –
I promise you will never want to leave. I love our Kangaroo Kids family!" ~ Gretchen Keller
Our Curriculum
Learning begins in our infant room, as we encourage a love of reading and the foundations so crucial for future educational experiences.  Our preschool program covers the traditional reading, writing, math and science, but we also include foreign language, self-help skills, and a vast array of literary and creative stimulating experiences.  Our kindergarten prepares children in all domains of learning for their future academic experiences.
Our children have an opportunity to experience nature and outdoors at its finest
Our playground, features 3 separate sections…one for the each age group
An on-site in ground heated pool for summer swim lessons
The families, and their children, enjoy our safe, country-like setting – away from the congestion and traffic of busy highways
A memorable highlight is walks to a nearby farm to visit the horses, and listen to the roosters
Children grow their own garden complete with flourishing fruits, vegetables, and flowers
Our Outstanding Teachers
Our staff is one of the most important reasons Kangaroo Kids stands out as a leader in early childhood education. They are chosen for their love of children, their willingness to continue to learn, and their high standards and credentials. Their dedication to children, families and Kangaroo Kids has earned 20 staff members entry into the Kangaroo Kids Hall of Fame!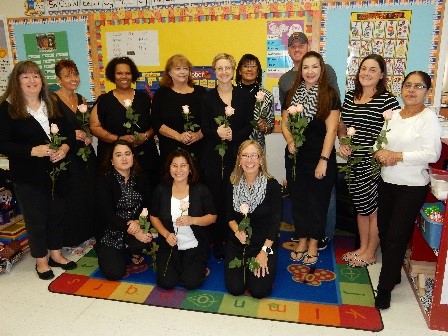 Did you know the national average of turnover in child care staff is 30%!!! At Kangaroo Kids we are so fortunate to have an outstanding staff who, year after year, have demonstrated their commitment to children and families! We proudly boast that every lead teacher has been with Kangaroo Kids 7 or more years! Therefore our turnover rate among our lead teachers is Zero.
"Among the research examining the quality of early childhood programs, rate of job turnover for child care staff seems to be a strong indicator of program quality. Frequent turnover among early childhood teachers prevented children from developing a secure attachment with teachers. In addition, teachers' high turnover negatively affected children's social, emotional, and language as well as teacher/ parent relationships," according to ChildCareResearch.net.

Low Teacher Student Ratio's
Our ratios are better than all Division of Children and Families (DCF) mandated ratios!  We believe time to interact with your child is crucial to our program and the success of our students.
Safety and Security Is A Top Priority
Kangaroo Kids is a state of the art facility located in historic North Branch with the latest in modern equipment and yet the charm and old fashion family values so necessary to today's society. Our family owned and operated school provides personalized care and education.
We have an open door policy for enrolled families but maintain your child's safety with our coded keypad entry system and fingerprint sign in.
Our Facility
Our playground is one of the largest in the area, with 3 separate sections for the each age group.
7,000 square feet of indoor space for a diverse array of learning opportunities.
Garden to enhance learning beyond the classroom.
In ground heated pool for summer fun and water safety.
Location
1047 Route 28, Branchburg (Historic North Branch, on the border of Bridgewater) NJ.
Children enjoy our country like setting away from the congestion and traffic of busy highways. Convenient to Raritan Valley Community College and Shop Rite.
A near-by 162-acre North Branch park is available for adventures in nature.
We take walks to a near-by farm to visit the horses, listen to the roosters and contemplate the flight of a butterfly!
Family Partnerships
We are focused on welcoming the whole family to be part of our program. A core value at Kangaroo Kids is that we create a partnership with parents, because we believe that provides the best environment for children to flourish. We welcome and encourage parents to partner with us in their child's care and education! We value your input and involvement.
Family Owned and Operated Program
Since 1991 our family owned and operated program has thrived in this community as leaders in education.  We strive to consistently be ever-changing.  This insures that we can meet the needs of today's individual child.