We Couldn't Have Said It Better Ourselves…
You and your staff are truly amazing. As you know, Charlie was at a branch of a national chain of day care/schools that is reported to be the largest in the country for two years before coming to Kangaroo Kids. Moving to Kangaroo Kids, where he was an hour away from either of us was very difficult, but from day one we knew it was the right decision. You know we have never feared for his safety for an instant, certainly something that we could not say before … the level of educational programming seems to be far above what might be referred to as the "community standard.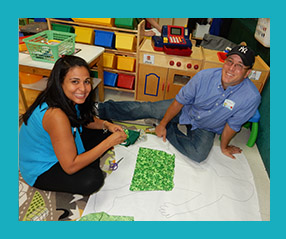 I feel very lucky to be part of the Kangaroo Kids family, not only for my children, but also for myself as their parent", said alumni parent Jodi Brodsky.
It seems like yesterday all of our little bundles of joy arrived. Soon after they were born we are all faced with one of the hardest decisions we will have to make: whether to stay home, hire a nanny, or choose a daycare. The decision is much harder than just weighing dollars and cents. In the beginning, your heart aches a little when you drop them off and some of you may have found yourselves sobbing in the parking lot questioning the decision you made. Soon you realize how much your child enjoys the decision you made: KANGAROO KIDS!! … It isn't a day care center … but a learning center. Soon children are learning to share, play well with others, going on field trips, and experiencing so many things … I want to thank the entire Kangaroo Kids staff for making one of the hardest decisions we have to make as parents, one of the easiest and most rewarding. You are Special People and should be applauded.
"Community service projects are always win-wins, with the potential to bring so much into the lives of others, yet the dedication and altruism necessary to volunteer is a rare gem. I hope you continue to teach kids these sorts of values and congratulations for a job well done."
Having reviewed close to 50 daycare centers in the surrounding areas within Morris, Hunterdon and Somerset counties, I can firmly attest Kangaroo Kids offers unparalleled education, safety, and compassion which my children have thrived in, all under the direction of Kathy Feigley." "Education is a strong feature for Kangaroo Kids. Regardless of the child's age from infant to 5 years old, the children are engaged in a myriad of educational opportunities and learn through play, interacting, and observing."
From the moment I walked into the building there was a sense of warmth and professionalism I hadn't felt or seen anywhere else." "You could hear compliments and "good job" around the building. Never, to this day, have I heard a raised voice in anger, only voices raised in glee. "The director and the staff understand the importance of nurturing and educating both the child and the child's family." "Kangaroo Kids has facilitated a strong sense of self-worth and confidence in my son. They have prepared him developmentally and academically for the next phase of his life.
Having been an educator for 31 years, I value education as one of society's most important responsibilities. In our modern society in which many parents are both actively working outside the home, a large block of the critical years of early education and nurturing often fall on day care facilities." "One day care center, Kangaroo Kids, stands out a beacon of excellence in providing such care…. Indeed, it is a gem in New Jersey." "The richness imparted by such care cannot be measured. Kangaroo Kids, Director Kathy Feigley, and her staff are truly enriching the lives of these children.
Congratulations! It is my privilege to inform you that you and your center have been selected as the WINNER of the prestigious 2009 National Child Care Director and Center of the Year Award.
Kangaroo Kids Child Care & Learning Center deserves to have a light shone on it so brightly that it can inspire other Centers and organizations to provide services of the highest standard." "The Center is a wonderful example of how a small group of highly motivated and dedicated people, who are well organized, and work together, can offer so much to so many children.