Proud to be Leaders in Early Childhood Education Since 1991
We are proud to be Leaders in Early Childhood Education Since 1991 and of providing high quality early childhood education programs for children from 6 weeks old through 10 years of age. Kangaroo Kids has infant, toddler, preschool, and prekindergarten, kindergarten prep programs as well as before and after school activities, summer camp and a full day private school kindergarten. We have schedules to meet the individual needs of each family from morning preschool programs to full day educationally based child care programs.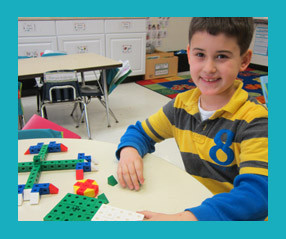 Learning begins in our infant room, as we encourage a love of reading and the foundations so crucial for future educational experiences. Our toddler and preschool programs cover the traditional art, music, reading, writing, math, technology and science, but we also include foreign language, self-help skills, and a vast array of literary and creative stimulating experiences. Our kindergarten prepares children in all domains of learning for their future academic experiences. After school programs provide a place for students to enhance their school day experiences and to relax and enjoy the outdoors. Summer Camp is filled with many adventures including weekly field trips and swimming in our onsite heated pool.