About the Kangaroo Kids School Age Program
The School Age program is a before and after school program for children to transition between school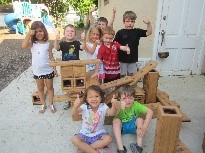 and home. Children in the school age program can also enroll for summer camp and for vacation camp when public schools are closed.
Children will have an opportunity to explore various learning environments, have free choice activity time and benefit from outside playtime.
Some of the highlights of this program are:
Enriched exploration learning environments.
Arts and crafts projects.
Time for homework.
Reading, reflecting and relaxing time.
Opportunities to socialize with friends.
Outside play time that will not only enhance physical fitness and development but also provide social interactions that require skills in leadership, negotiate, and taking turns.
Kangaroo Kids provides transportation from a few of the local schools. Some of the school systems will provide bussing but arrangements must be made through your local school system.